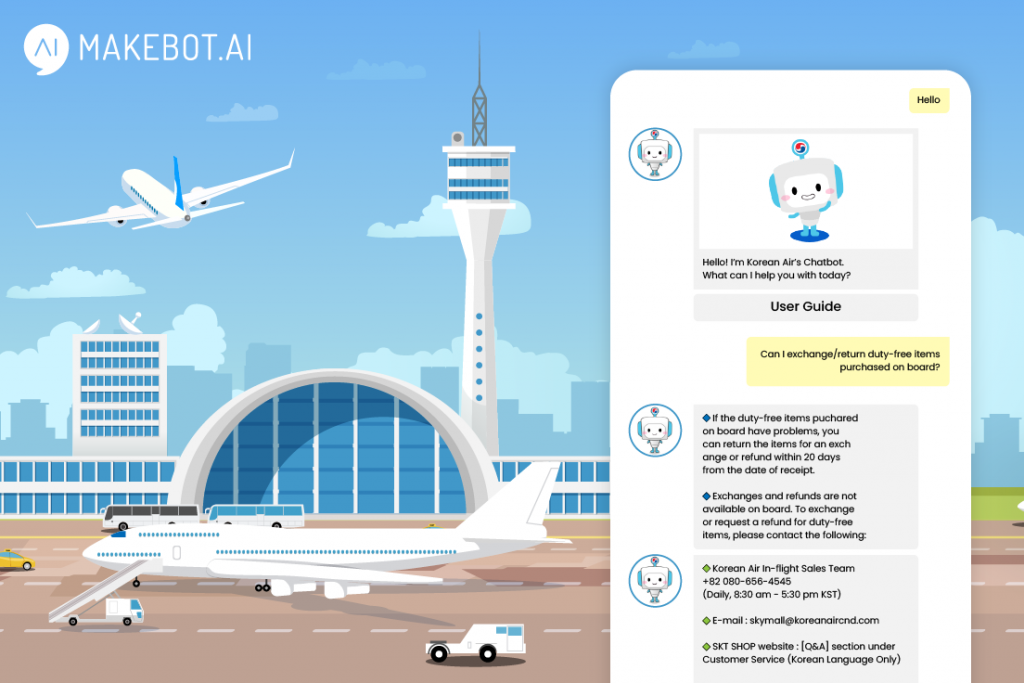 Over 4.7 billion people traveled across the globe using airline services before the Covid-19 outbreak. Even though this number has dropped in 2020 to 1.8 billion, it went up quickly to 3.4 billion in 2022. This indicates that the airline industry plays a significant role in today's world. With over 5,000 airlines worldwide serving millions of people every day, both airline companies and their passengers are nit-picky about customer service. In the airline industry, one of the most important qualities is customer service. The customer service process is a long one, starting from ticket booking and checking-in, to answering inquiries post flight. Although companies in this sector are financially capable of hiring hundreds of personnel if needed to provide the best service, there are certain areas where AI-IT automation does the job more efficiently. This happens to be conservational AI.
Conversational AIs, also known as chatbots, are not new but have been around for quite some time. However, chatbots have only become mainstream in the last few years and have advanced extremely in the last few years. Pervasive qualities of chatbots include around-the-clock accessibility efficient usage of operational costs and time, and other functions like answering FAQs and providing service/product information.
The airline industry is one of the leading industries that greatly contributed to the development of chatbots and benefitted from these developments. Here are the top five use cases of chatbots in the airline industry.
Booking Flights
There is no doubt that there are dozens of flight search engines in the industry offering a very convenient booking experience for customers. However, a downside to using these types of search engines is that customers either have to go on a website or download an app, an extra step they may want to avoid. Chatbots can help avoid going through this extra step. They can be integrated into instant messaging apps, allowing customers to book flights through a simple conversation.
Broadcasting Notifications
Many airline companies notify their customers about any changes or updates by emailing them. However, emails are not read as quickly as instant messages are. This leads to customers not being accustoming to these changes as quickly as they need to be. This may not be a company's top priority, but utilizing slower communication methods affects them in one way or the other. Through chatbots, everything can be communicated via instant messaging apps, and the chances of these messages being checked are a lot higher than emails. Happy customers, happy company.
Ancillary services
According to Research and Markets' analysis, the airline industry would not be as profitable if ancillary services were not there. Ancillary services contributed as much as $83 billion to the annual revenue of the airline industry in 2020. What's more, it is forecasted to reach $206 billion in 2027 with a CAGR of 13.8%. This is the reason why many airline executives are talking about it. Conversational AI's ability to offer and sell those services makes a tremendous difference for both airlines and customers. The fact that 40% of ancillary services are sold online demonstrates a vast opportunity for chatbots to make customers' experiences even more pleasant. Below is a figure that illustrates more types of ancillary services and their individual revenue contribution.
Flight and Baggage Tracking
The last thing people want is to be anxious about their upcoming flight or delayed baggage. Sometimes, information regarding upcoming flights or baggage delays cannot be found easily on the airline's website or app, leading to customers having to contact airline support centers which usually have a high volume of calls and are unable to redress issues right away. Airline companies with chatbots available on multiple channels and in various languages are offering this service without having to assign any employee for this particular job.
Self-Check-in
Even before COVID-19, people reacted quite positively to self-check-in functions on websites, apps, or machines in airports. With the pandemic, the demand for contactless services has increased. Therefore, many airlines are offering this service on chatbots, making the process of self-check-in even easier. A few messages on your favorite messenger, and you are good to go. How much easier can it get?
Real-life Airline Chatbot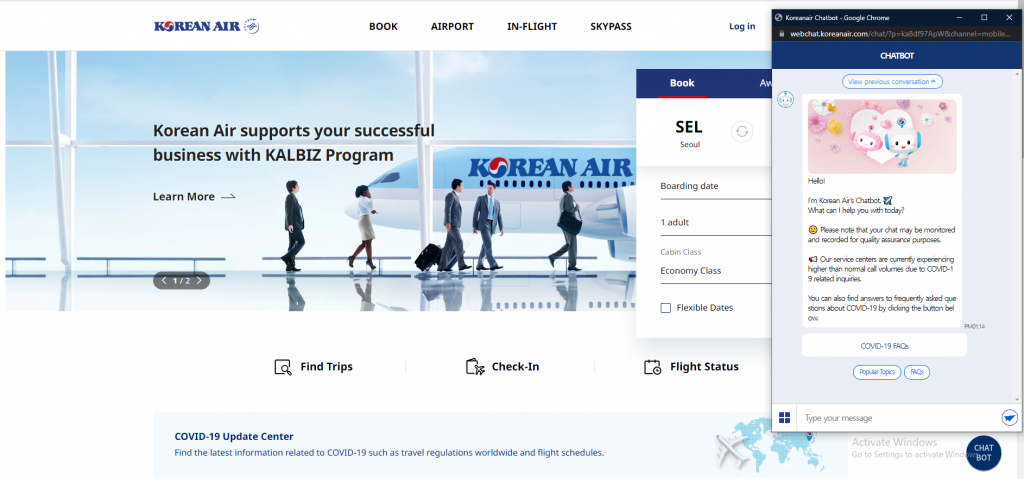 Korean Air, one of Asia's top ten airlines and the largest airline company in South Korea has integrated a chatbot on its website and two instant messaging platforms: KakaoTalk and Facebook Messenger. The chatbot handles tens of thousands of inquiries in multiple languages every month. Korean Air and chatbot provider, Makebot consistently work together to improve the chatbot's functionalities. Check it out yourself here and visit makebot.ai for more information.